"Each film I make has a message I feel compelled to tell."
---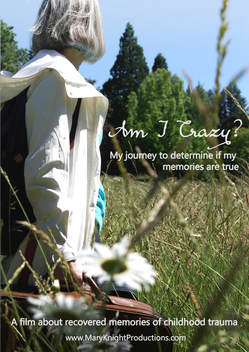 ​
​
Am I Crazy? My journey to determine whether my memories are true.
​
A film about recovered memories of childhood trauma, Run time 55 minutes.
I am a survivor of child pornography.
Society does not acknowledge some forms of child abuse. Adult survivors are more likely to be believed than children, but most survivors of extreme childhood abuse NEVER feel safe enough to go public. I thank God for the fact that I am able to tell my story.
I didn't remember my childhood torture until I was 37-years old. Before that, if I'd been asked, "Were you sexually abused as a child?" I would have said no.
Twenty years ago, my aunt disclosed her recall of generational abuse. Soon images of extreme abuse surfaced for me and were confirmed by cousins with similar recollections.
In 2014, I traveled across the nation to interview experts representing all sides of the recovered memory controversy, allowing them to ask me intimate, probing questions. I reevaluated my recovered memories, on camera. I have footage of:
Dr. Bessel van der Kolk, Neuroscientist/Psychiatrist, Author of "The Body Keeps Score"
Dr. Elizabeth Loftus, Psychologist hired by the defense team of O.J. Simpson, Ted Bundy, the Hillside Strangler and hundreds of alleged perpetrators of child sex abuse
Former Miss America Marilyn Van Debur, Survivor/Advocate, Author of "Miss America By Day"
---
DVDs available for purchase for $20, contact me at maryknighthappy@yahoo.com to order.
​